The festival will make its return with a line-up of spectacular performances, exhibitions, visual arts, live music, theatre, spoken word, cabaret, film, parties, sport, social events and public forums. The event will span 161 open-access events made for and by queer communities who live with sacred experiences around diverse gender and sexuality.

Alongside the festival, Midsumma will host its Midsumma Presents programme, presenting 34 events which highlight unsung heroines and unheard voices of queer intersectional communities of this time.

Midsumma will also focus its 2022 major project 'AND/OR' on breaking new artistic ground – it's a programme of works which are disability-led and from multiple perspectives, ranging from unapologetic to vulnerable, celebratory to questioning, reflective to riotous.

Musicians Of Orchestra Victoria will unite for 'Pride And Joy', to celebrate queer composers across time and place. Tony Award-winning musical 'Fun House' will take centre stage at Art Centre Melbourne. Thomas Jaspers and Kyle Minall will present hilarious show 'An Intimate Evening With Granny Bingo' and Tom Ballard will take to the stage for a 'Night Of Comedy'.


There's the 'Bowie Ball', back for an anything-goes extravaganza. Cult indie choir sensation 'Seamen! The Sea Shanty Spectacular' will add a modern pop spin to a bounty of seafaring songs, and 'The Seven Gins Of Pride' will host a masterclass with a twist.

Meanwhile, an all-star cast of queer artists will have you singing the most beloved queer anthems for a night of 'Queer-aoke'.

"After such a challenging few years we are thrilled to once again deliver such a broad range of events that highlight the talent and diversity of our artists, and our communities, in such a vital way," Midsumma CEO Karen Bryant says.

The iconic Midsumma Pride March will parade down Fitzroy Street in St Kilda on 6 February to celebrate Pride March's 27th anniversary. Audiences can attend in person, or tune in virtually.

Check out some shots from the Midsumma 2022 programme launch below.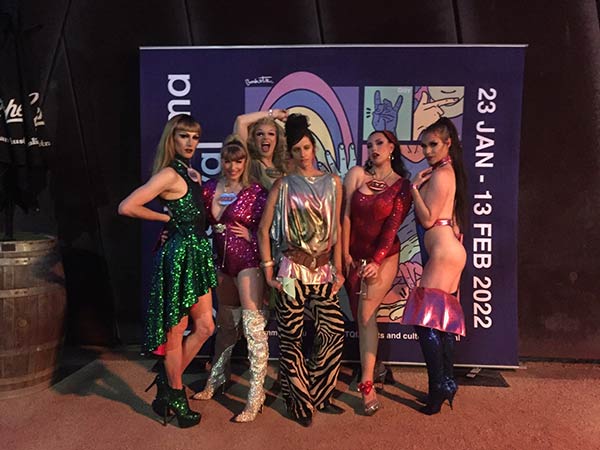 (Programme Launch Images © Karen Conrad)

Midsumma Festival 2022 runs from 23 January-13 February.